Where Are They Now? Convicted Heir Hunters Set Up New Shop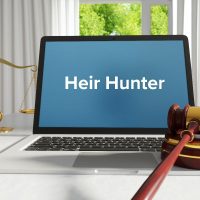 Unscrupulous heir hunters overcharge potential beneficiaries and otherwise undermine the work of legitimate genealogical services. We've discussed the heir-hunting firm Kemp & Associates, in particular, in a couple of prior posts. Kemp and its COO were convicted of federal antitrust violations, put on probation, and forced to pay heavy fines for taking advantage of customers.
We've recently learned that some of these key players are back under a new name, trying to provide the same heir-hunting services without advertising their checkered past. Continue reading to learn about the new home for these previously-convicted heir hunters. For qualified, honest help identifying the proper heirs to an estate, call a trustedforensic genealogist.
Heir Hunters Kemp & Associates Convicted for Antitrust Violations
In 2019, several heir-hunting companies, including Kemp & Associates, were convicted of violating federal anti-competition laws. According to the case brought by the Department of Justice (DOJ), these companies participated in a coordinated scheme to fix the heir hunting market and deprive customers of free market competition that would ensure valuable services and keep prices appropriate for the services provided.
In particular, the companies agreed not to compete with one another for customers. If more than one company reached out to an heir, everyone involved agreed to let the contract go to the first company to reach out. The other companies would be paid a cut of the fee. By allocating customers among themselves, rather than competing, the companies could keep prices high and the quality of service low.
Kemp and its COO ultimately pleaded guilty to the charges. Kemp was hit with a $1.53 million fine. Kemp's then-COO, Daniel J. Mannix, paid a separate $77,600 fine and was sentenced to a year of probation.
Key Personnel from Kemp Now Run "Legacy Probate"
The case served as a reminder of the unscrupulous nature of many purported "heir-hunting" services. We've talked about Kemp elsewhere, pointing out their less-than-stellar work that would allow the wrong parties to collect an inheritance (and Kemp to take a sizeable cut) if left unchallenged. It's no surprise that a company that maintains business through a conspiracy with its would-be competitors rather than by providing quality, competitive services would do a lackluster job. The forensic genealogy team at Von Langen had to correct their mistakes with proper due diligence in order to ensure that the estate passed to the true, legal heirs.
Now, the same folks that were previously convicted of harming customers are back under a new name. Legacy Probate International markets itself as a provider of forensic genealogical services, calling themselves "genealogical detectives." Their webpage shows that they are still utilizing the same old exploitative methods. For example, the Frequently Asked Question page notes that they won't "disclose the name of the deceased family member until after all heirs sign the Assignment," a classic predatory heir hunter tactic.
Not disclosed on their webpage and marketing materials are certain individuals involved with the company, including Daniel Mannix, Kemp's convicted former COO. Even Kemp's own website no longer mentions specific individuals by name. If you are looking for forensic genealogical services, make sure you conduct your own due diligence and that you hire a firm dedicated to responsible, respected client service.
If you're an estate administrator or trustee in need of ethical, comprehensive, and trustworthy forensic genealogy services, contact the offices of Von Langen, LLC for a consultation at 800-525-7722.