The Perils of Relying on Heir Hunters Again Made Evident Thanks to Complete Genealogical Investigation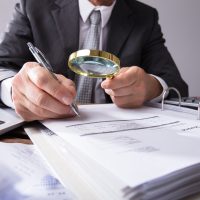 Estate administrators assigned to handle intestate estates often have the unenviable job of determining whether a claim of heirship is valid. When the decedent dies without a spouse, children, or family living nearby, there is no easy way to learn more about their life or family relationships.
In one such case, an attorney working for the heir hunting company Brandenburger & Davis presented a list of "heirs" to an estate administrator that not only failed to include the decedent's closest living relative (the rightful heir) but also failed to include all living family members whom the heir hunters themselves had purported to establish the class of alleged heirs. In cases such as these, estate administrators and executors often turn to Von Langen LLC for a thorough, experienced, and objective forensic genealogical investigation to uncover the whole story. Learn more about the case below, and contact the heir location investigators at Von Langen LLC for help in probate and estate administration.
In February 2018, attorney Barry Schneiderman contacted the administrator of the estate of decedent Elsa Louise Schumacher, presenting himself as the attorney representing seven alleged heirs to her estate. Schneiderman shared that he was the attorney representing Brandenburger & Davis, an heir hunting firm (that has since become defunct after having been indicted on federal conspiracy charges).
The administrator turned to us for help verifying the heir hunters' claims. Our investigators were led on an international trail that took us to the town of Tawern, Germany, where Schumacher's maternal grandparents lived. Her mother, Lena, was born in Wisconsin to German immigrants, but her family returned to Germany when Lena was a young girl. Before returning to the US, where she would marry and give birth to Schumacher and her brother, Lena gave birth to a daughter, Barbara, out of wedlock. Locals in the town had believed the woman to be Lena's father's niece, not his granddaughter, so it was only by thoroughly examining local church records that we discovered the woman's true identity and her half-sister relationship to Schumacher. Barbara had predeceased Schumacher, but not before having a son. This son, Schumacher's half-nephew, was her closest living heir. The half-nephew's claims took precedence over those of the cousins put forward by Brandenburger & Davis, and their attorney Schneiderman then withdrew as counsel for those alleged heirs.
If you're an estate administrator or probate attorney and need help identifying and locating heirs to an estate or trust, contact the forensic genealogists and heir locators at Von Langen LLC for a consultation at 800-525-7722.