Forensic Genealogy: Much More than Ancestry.com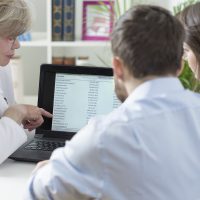 If you or your organization are searching for heirs, whether of an estate, a trust, an investment account, or mineral rights, you may wonder whether it's truly important to hire a professional to conduct this research. After all, information on just about anyone can be found online with a few google searches, right? There are many reasons why research conducted by a forensic genealogist goes far beyond what even the most avid amateur internet detective can uncover. Read on to learn about the rigor demanded of the work of reputable forensic genealogists. Contact a seasoned forensic genealogist with any additional questions you may have.
Advantages of Forensic Genealogy
Forensic genealogists are trained in conducting research in ways that the average amateur sleuth is not. Genealogy can be a challenging subject to research. The field often relies on eyewitness accounts, but individual memories may fade or become corrupted. Genealogists will ensure their findings by relying on multiple sources to prove crucial findings and understand how best to resolve conflicting results. Trained genealogists also understand how to use negative evidence, where amateur genealogists who lack formal training in conducting genealogical research can easily be misled or frustrated by these results.
Forensic genealogists use on-the-ground investigators scattered across the globe to conduct in-person interviews and inspect records that have not been digitized. It's easy to believe that all public records have been made digital and thus can be accessed from anywhere in the world, but it's not true. There are many records which only exist in paper format, requiring a thorough researcher to review them in person to know what they say. When these paper records are lost or destroyed, a researcher's only option may be to conduct interviews of those who may have some knowledge of what the records would have contained.
Forensic genealogists will produce reports that thoroughly document their findings and conclusions. A forensic genealogist will provide you with more than just the names of the heirs they found, or the fact that that none exist, at the conclusion of their search. When working with a professional forensic genealogist, you can expect to receive a report delineating not only their findings, but also a list of all the sources and records that they relied on, as well as those they simply reviewed in the course of their search. The genealogist will explain each stage of their research and the ways in which they verified any findings.
Forensic genealogical research can be relied on in court. Amateur genealogists who are simply trying to flesh out their family tree may not feel that this sort of rigor is necessary while searching out the identity of their ancestors. However, the need for accuracy is much greater if you're an estate administrator or trustee, or you've been tasked by a financial institution with locating the rightful recipient of the distribution of an asset. You need results backed by evidence that you can rely on should your asset distribution be challenged in court. Without hiring a seasoned and respected forensic genealogist, you may never have this degree of confidence in your findings.
For skilled, thorough, and professional assistance when searching for heirs or beneficiaries, contact the offices of the forensic genealogists at Von Langen LLC for a consultation at 800-525-7722.