Heir Location Service Providers Prosecuted by Justice Department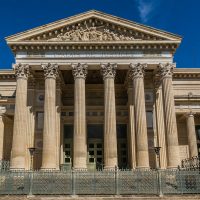 In recent years, several once-prominent heir location services have been the targets of US Department of Justice indictments for running afoul of the law. Recently, the US Department of Justice has succeeded in its pursuit of three heir location service providers who were accused of conspiring to eliminate competition in the market. Learn more about these criminal prosecutions below.
Heir hunters charged, challenge indictments, plead guilty to violating anticompetition laws
The heir location company currently being prosecuted by the Department of Justice is Kemp & Associates, Inc. Prosecutors found three heir hunter companies violated antitrust laws by engaging in a conspiracy to allocate customers among themselves. According to court documents, Kemp & Associates and certain other companies entered into a written agreement to avoid bidding against each other for potential customers; they would pay off the other company for not competing for an heir's percentage-based contingency fee contract. Their arrangement worked as follows: if more than one company reached out to an heir, the first company would be allocated those heirs in that estate if they hadn't yet signed a contract with an heir location service. The other companies would agree not to compete to sign a contract with that heir or the remaining heirs in the estate, so long as the first company provided them with a portion of the fees they would eventually collect from the estate. This allowed the first company to charge a noncompetitive higher rate for their services, since the heir received no other offers.
In 2016, the Justice Department filed its original indictments for antitrust charges against Kemp & Associates and the company's chief operating officer. Certain other heir hunters who were co-conspirators pleaded guilty in 2016, but Kemp & Associates challenged the indictments. Initially, they were able to have the cases dismissed in their home state of Utah where the judge erroneously held that the case was barred by the statute of limitations. However, government prosecutors succeeded in an appeal and had the indictment reinstated in February 2019. By July 2019, Kemp & Associates (through a representative) had agreed to plead guilty to the indictment resulting in more than one and one-half million dollars in punishing fines.
Heir hunters who are now subject to law enforcement have interested government regulators for some time. Many states have laws that address or limit how they operate. Legitimate heir location services have cautioned potential clients about the strategies used by heir hunters in many cases. To learn more on this topic of serious concern please visit other webpages found on this site.
Von Langen, LLC recognizes that those tasked with settling estates may struggle to identify and locate all rightful heirs. Over the years, our organization has believed the ethical method for locating missing heirs is to work with estate administrators rather than pursuing unauthorized searches for heirs. We've provided reliable forensic genealogical research and private investigation services to estate administrators and trust officers for over three decades.
If you're an estate administrator or trustee in need of trustworthy, ethical, and responsible forensic genealogy services, contact the offices of Von Langen, LLC for a consultation at 800-525-7722.