How a Forensic Genealogist Finds Missing Heirs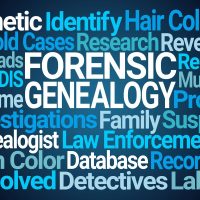 Many people understand genealogy as the practice of tracing and discovering your ancestors and creating a family tree. This definition is fairly accurate, but there's a big difference between genealogy and forensic genealogy. Forensic genealogy is a scientific discipline limited to the study of ancestry for use in legal fields. Most often, forensic genealogy is used to locate missing heirs and establish the lineage of a deceased person for the purpose of administering their estate in probate court. Below, we describe some important steps in the complex process of finding missing heirs in a probate search. If you are an estate administrator, personal representative, public administrator or other probate professional needing help with a search for missing heirs, contact the professionals at Von Langen, LLC for assistance.
Commencing the Search
The first step to finding missing heirs involves an extensive review of the estate documents, family trees, and other available records to get an understanding of the deceased's familial connections. This is where we gather initial leads on potential heirs and commence our primary searches.
Digging Into Records
Our journey to find missing heirs takes us deep into the archives of birth, marriage, and death certificates, adoption records, census data, immigration documents, and more. We spend countless hours cross-referencing these records, following clues to fill in the gaps in a family tree or to find the missing link.
Local and Global Research
At Von Langen, LLC, our forensic genealogists are well-versed in performing both local and global searches. We tap into resources that span the globe, from local courthouses and libraries to international databases and record offices. This expansive network allows us to trace families and individuals who may have moved across countries and continents.
On-Site Research
When necessary, we conduct on-site research. This can involve visiting cemeteries, local government offices, or hometowns to collect records, interview locals, or even meet with potential heirs. We leave no stone unturned in our quest for uncovering the truth.
DNA Testing
With the advent of technology and advancements in genetics, DNA testing has become a valuable tool in a forensic genealogist's arsenal. If other methods don't provide definitive results, we turn to DNA testing to confirm family connections through various databases. These tests help us establish biological relationships and ensure that the rightful heirs are found.
Legal Documentation
Once we've successfully located the missing heirs, the final step in our process is ensuring the legal documentation is properly prepared. We compile an extensive report that includes a complete and accurate genealogical chart, all supporting documentation, and a clear explanation of our findings. Our reports are prepared to meet the stringent requirements of courtrooms worldwide.
Our mission at Von Langen, LLC, is to ensure that estates find their way to the rightful heirs, no matter how far-flung they may be. It's a process that involves meticulous attention to detail, a deep understanding of genealogical research, and an unwavering commitment to unraveling the truth.
Forensic genealogy is more than a profession – it's a passion. We take pride in reuniting families with their lost inheritances and ensuring that everyone has a chance to claim what is rightfully theirs. If you're an estate administrator or trustee in need of ethical, comprehensive, and trustworthy forensic genealogy services, contact the offices of Von Langen, LLC, at 800-525-7722.