Multiple Marriages, Adoptions, and Half-Siblings Complicate Search for Heirs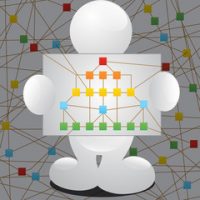 The forensic genealogists at Von Langen LLC recently completed a search for heirs of one Esther Ragsdale of Ashland City, Tennessee. For background, Von Langen LLC's client advised us that an heir hunter's attorney represented an alleged "half-grandniece" and "half-great-grandniece" who were located as a result of the heir hunter's unauthorized search; their search was inconclusive. Von Langen LLC's search—involving multiple marriages on either side, adoptions, and half-blood relatives as far as the eye can see—demanded much from our team of researchers. The resulting report details the many meandering branches of Ragsdale's family, along with the countless tragedies the family suffered through its history. Learn more about our search below, and contact Von Langen LLC with any questions about our forensic genealogy services.
The Heirs of Esther Ragsdale
Esther Ragsdale was born Esther May Patton on New Years' Day of 1931 in Indianapolis, Indiana. Esther's father, Ira Ollie Patton, was on his third and final marriage when Esther was born. She was one of 14 children born to her father, many of whom wound up in some of Indiana's most notorious institutions for the "feeble-minded" or other state-run facilities. Ira was struck and killed by a streetcar in September 1946 at age 77. Esther's mother, Nellie, also married three times along the course of her life, but Esther and her younger brother, Nathan, were Nellie's only children. Nathan was placed in the Board of Children's Guardians Home as an infant and was eventually adopted. He died in Florida at age 56.
According to US Census records, Esther and three or four of her half-sisters were listed as inmates at the Fort Wayne State School, also known as the Fort Wayne State School for Feeble-Minded Youth. This institution had the dubious distinction of housing the vast majority of those who fell victim to Indiana's compulsory sterilization law, which targeted the developmentally disabled and mentally ill. Records found in our search uncovered that both her mother and father were alleged to have had "mental deficiencies," and before Esther was discharged from the school in 1954, she was sterilized. None of the half-siblings believed to have lived with Esther in the Fort Wayne State School are believed to have had children, and they may have also been victims of this draconian law, as well.
Despite having had children with each of his three spouses, the only children listed in Esther's father's obituary were the seven surviving children born of his first marriage. This was not the only inaccurate obituary we would discover along the course of our search. In all, despite institutionalization and adoptions and changed names, we confirmed the whereabouts of all but two of Ira's children, learned likely locations or dates of death for the other two children, and identified 72 individuals constituting Ira's progeny. This sprawling family tree was the result of extensive searches in public records databases all over the country, including Indiana, Florida, Colorado, Virginia, Washington, Oregon, and Arizona, as well as interviews of surviving family members who had themselves attempted to trace out their family's history.
Help is available for Complex Genealogy Reports
If you are attempting to complete a complex genealogy report while serving as an estate administrator or trustee, get help from the thorough and experienced forensic genealogists at Von Langen LLC by calling 800-525-7722.