Profile Describes Important Relationship of Public Administrators and Heir Locators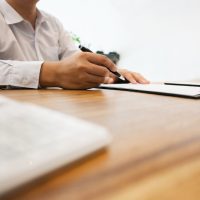 It's one thing to hear a basic description of the role that public administrators play when someone dies without having created a will or where there is no executor. The significance of this job is brought into high relief when looking at it in the context of an individual story. A recent profile published in Bloomberg Businessweek tells the story of an elderly man who died quietly and the work that the local public administrator and an heir location service conducted to distribute the substantial estate he left behind. Contact a seasoned forensic genealogist for more information about how an heir location expert can help you.
Background on profile
The Bloomberg Businessweek profile centered on a man named Eugene Brown and the work done by both those in the public administrator's office and professional heir locators to settle and distribute his estate after his passing. The work began when Police found Brown dead in his home after his mail carrier asked authorities to check on the man when he wasn't there to greet the carrier like usual. The police, unable to find any contact information of close family members or friends, then passed the case along to the Tehama County public administrator's office.
The county public administrator, Melani Rodrigue, along with her assistant, Dale Tisserand, began their investigation into who Brown was, what he left behind, and who was entitled to receive it. The women searched diligently for some evidence of family members or friends with whom Brown kept in regular contact, along with evidence of an estate plan, but found neither. Rodrigue and Tisserand did find meticulously-kept records of Brown's investment accounts, and they would come to learn that Brown had spoken with his investment advisor twice a day every day for years. While the advisor told the public administrator's office that Brown had expressed a desire to leave his carefully-maintained fortune—some $2.7 million—to Catholic charities, Brown had completed but failed to sign a form designating Catholic Relief Services as the sole beneficiary of his investment accounts. Rodrigue and Tisserand were also charged with having Brown's meager possessions appraised and liquidated.
The repercussions of no will
Brown was one of a large number of Americans who do not create a will before they pass. This means not only that public officials were required to determine how his property should be distributed, but also how his funeral should be conducted and whether his remains should be buried or cremated. Having found a military uniform retained along with few other personal effects, Rodrigue decided to hold a funeral with military honors for Brown, attended only by the assistant funeral director.
Without a will, Brown's substantial estate would need to be distributed to his lawful heirs, or it would escheat to the state. Rodrigue and Tisserand found no evidence of any surviving family members in Brown's home, however, aside from a second cousin who had been designated as his emergency contact and with whom he would occasionally exchange letters. It is at this point that the work of heir locators became integral to the proper distribution of Brown's estate. The long-standing probate research firm Brandenburger & Davis (which has since stopped accepting new cases) saw a notice of the estate in the paper and began reconstructing Brown's family history. The article describes the "obscure field of probate research," noting that the important work done by heir location services amounts to far more than an internet search or scroll through ancestry.com. The firm was successful in locating Brown's surviving niece and nephews, all of whom were shocked to inherit hundreds of thousands of dollars from a man whom they'd thought had passed away years ago.
If you're a public administrator, estate executor, or trustee who needs the help of a skilled and experienced heir locator, contact the forensic genealogists at Von Langen LLC for a consultation on your case, at 800-525-7722.