Suits to Quiet Title Explained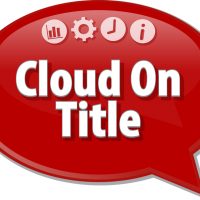 When you're planning to sell a piece of property, you need to be able to confirm that you own the property free and clear. If some financial institution or individual has a legal claim to owning part or all of the property you're planning to sell, this is known as a cloud or encumbrance on the title. Buyers are typically unable to obtain a mortgage to purchase the property when the title is not "clear" (free from clouds), and most cash buyers will not take the risk that someone with a right to their property could appear at a later date.
When clouds on title arise unexpectedly before a planned sale of property, they can cause major delays or even scare off potential buyers, and they often need to be resolved as quickly as possible. Read on to learn more about how to resolve clouds on real property titles, and contact a diligent and skilled title investigator for help with a claim to quiet title.
Why is it difficult to resolve clouds on title?
Due to errors in record-keeping or careless title searches, these clouds may not appear on all searches, meaning that you might have bought the property thinking that you owned it free and clear, only to discover the years-old claim when attempting to sell it. Clouds on title can come in many forms. Frequently, clouds on title involve a loan taken out against the property or a lien filed against the property as collateral for a debt owed by the owner.
Often, when years have passed and no one has filed a claim against the property, the entity entitled to a share of ownership no longer exists; an individual with a claim may have died; or the institution with a lien got bought out, with the old lien lost in the shuffle. Alternately, the former owner against whom the lien was filed may have passed away, and any information on whether the lien was paid or written off was lost with that person's death.
Diligent investigation is required to support claims to quiet title
A seller who wishes to resolve clouds on the property's title must often file a suit to quiet title. Gathering evidence for these factually-complex issues often requires an experienced investigator who can review old purchase agreements and bank records, locate individuals with first-hand knowledge, and find lien beneficiaries to determine whether the cloud is valid. If successful in a suit to quiet title, the court will declare that the plaintiff is the sole owner of the property, clearing the title of any encumbrances.
If you're in need of dedicated, persistent, and knowledgeable investigative support for your quiet title claim in Florida, nationwide and beyond, contact the offices of Von Langen, LLC for a consultation, at 800-525-7722.